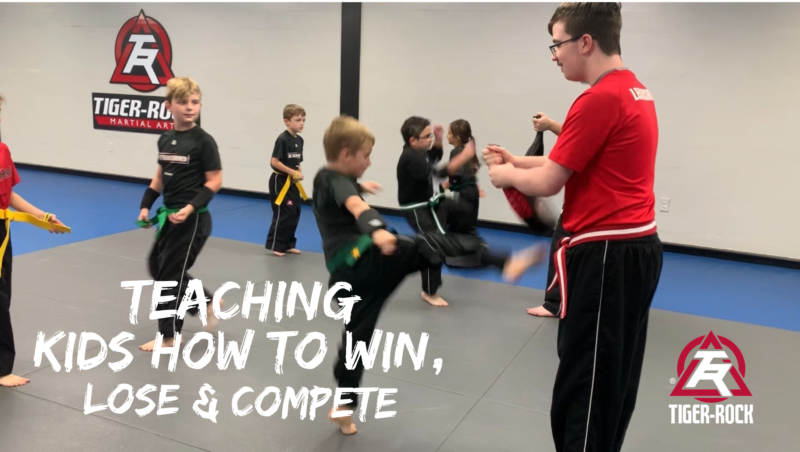 Teaching Kids How to Win, Lose, and Compete
Hagerstown Parents and Coaches,
Teaching kids to win, lose and compete can be a challenge.
Working with kids for over 25 years, our Tiger-Rock instructor team has come up with an effective plan.
Just remember, kids are always changing and your approach has to stay with the times. Regardless of what worked when you were a child, might not necessary work with today's kids. Society is different. However, the overall message is same.
Step 1: Make sure they know what constitutes a true victory. We tell our students improvement is a win. What place you're in is a result of improvement.
Step 2: Tell kids it is ok to be upset, disappointed or mad if you don't win or place as high as you would have liked. We want our students to learn to express themselves, not hold in their feelings. It is unhealthy to hide your true thoughts and can lead to bigger challenges down the road.
Step 3: It is not ok to blame others and exercise poor sportsmanship. You cannot control other people's thoughts and feelings, but you can inspire them by your actions.
Step 4: Be proud of their effort. Most adults have no idea what is going on in a child's mind. Kids have stress and anxiety that might not seem relevant in our world, but it is huge in theirs. Praise their effort for coming out of their comfort zone and stepping out onto the competition mat.
Step 5: Sometimes we need a little extra motivation when we are intimidated. Most kids want to try new things, but their brain gets in the way sometimes. Unfortunately the "Fight or Flight" reflex kicks in and it is a lot easier to avoid pain than go after pleasure.
Take into these 5 steps and modify them to your child and what you think will work. Having a support system of friends and class mates can also be very beneficial.
If you are interested in contacting Brad Fantle for speaking engagements you may reach him by email at bradfantle@gmail.com. He is a 7th Degree Black Belt with Tiger Rock Martial Arts, has 25 years experience working with children and teaching self-defense, an Optavia Health Coach and has a BA in Sports & Fitness from the University of Alabama